Updates Page 7
Submitted by Leslie, August 22, 2010

Hey Everyone,

I recently sent out an email telling many of you of an article that was placed in a local town magazine on our family and ALS. Our intention for the article wasn't to put the spotlight on our family, but rather to make people more aware of ALS. The article I felt was beautifully written and I was able to read it before it went to print. I want to share with you that even though the article was done nicely, I felt the article put a more hopeful spotlight on ALS, rather than the bleak side that our family is facing and felt that some important facts were being left out.

There isn't a cure for ALS and life expectancy is usually 3-5 years from the onset of symptoms. In Curt's case, which was bulbar onset (started with his speech) life expectancy is 2-3 years. Curt first started having symptoms July of 2009.

In the article the medication Riluzole (Rilutek) is mentioned. We started this medication with Curt as soon as we could, with the help of a family member paying the first months cost of $1000, until we were able to get 100% coverage through financial assistance. Without financial assistance, we would have never been able to afforded this drug. In the article it states that there is a "modest" effect in prolonging survival. It is important that you know the word modest means that Rilutek has the possibility of prolonging life 3 months. That's it, three months. I feel it is important for people to have a number for the word "modest" in this situation. Three months is very minimal, but in our situation, three months is very precious time and our family would give anything to have that modest prolong of life. Unfortunately, as with any drug, there is the risk of side effects and one of those complications was high liver enzymes. Curt had his blood tested monthly, sometimes more often, and after being on Rilutek for about 2 1/2 months, he had to discontinue taking it due to the liver issues.

Many people with ALS are able to go on and live a good life, accommodating to the changes that have taken over their bodies. Many live longer than their life expectancy, with the help of new medical equipment or a breakthrough on current research, such as stem cell research that so far seems to be showing hope and promise. Curt was diagnosed with ALS the end of December 2009, had a feeding tube placed in February 2010, got pneumonia in May 2010 and also could no longer drive, received a tracheotomy in June 2010 and in addition to that, could no longer dress himself. He went from doing the things he loved and playing basketball in December to being nearly fully dependent on others in 6 months. His limbs tighten up and he loses mobility. Every day it gets more difficult for him to type on his phone which is his current form of communication. If you touch his forehead, his head will fall back at a free fall because he doesn't have the muscle strength to keep it upright. He hasn't gone outside much this summer because the humidity causes too much congestion in his trache. He needs to be in the air-conditioning where it is easier for him to breath. He continuously needs to be suctioned throughout the day and can't be left alone. He misses playing with his kids and his kids, miss him terribly, though he is right here. He misses hugging me. I miss having a conversation with him about just "daily life". This disease is mean. It eats away at you and strips you of the things that we, the healthy ones, take for granted. It is possible to still live your life, but there are many difficulties to overcome and we deal with new difficulties every day.

We need a cure.
Love and Cure ALS. Never Give Up,
Leslie



Submitted by Leslie, August 21, 2010
Summer is going by so quickly, and I feel as if the days are a blur. I knew that our lives were no longer normal, but I had no idea to what extent that was. I wake up and rush, rush, rush, trying to get to everything that needs to be done, often feeling like I haven't accomplished anything. Things are just...difficult. As difficult as they are, I really must thank our friends who have been here for us, asking what we need, and coming up with wonderful activities for our family to do with them. There has been Tiger Games, tie-dying, fishing, swimming, movies. And a special friend, Cindy Nunn, has been an additional caregiver and has helped assist Curt when I have had to run errands. We can't thank you enough for coming over and bringing so much laughter with you. span>
Curt is unable to type updates anymore, though he does send text messages back and forth with family and friends. In this update, I want to share with you another email that came from one of Curt's close buddies. Sometime this summer, Eric Signs started emailing photos (old ones and very hilarious) to a group of people who then, would comment on the photos. Flashbacks of mullets, college days, Halloween parties, old school photos...oh, let me tell you, non-stop laughter. One of the photos on the more serious side, sent by Curt's friend, Rich Kirby, brought tears to the eyes of I believe, all in the photo and even to me. Each time I read it, I cried. Friendship. These five have a friendship that could scale any mountain.
My Favorite People - submitted by Rich Kirby, August 2010
Almost everyday since I have moved to Ludington, I think of all of you. For many years I have thought about writing some eloquent letter to you all expressing my appreciation for your friendship. Here is my attempt. I miss you all and often think of how fortunate I am to have you, your spouses, and your families as friends. It is very difficult to put into words how strong my feelings are for you all. Every day at school I see kids that do not have any support system but that in which they may get at school. I was so fortunate to have you all in my world. I often talk about the importance of surrounding yourself with great people to be successful. When that teachable moment presents itself, I speak of you and your families and your impact on my life. Next to my children and marriage, there is no other relationship that I hold dearer than the one I have with you all. Here is a photo of our Chicago trip we took our Senior year. This photo is a picture that Eric framed for us all as a graduation gift back in '86. His note on the back of the photo expressed his appreciation for our friendship. For lack of better words, I would like to resend this photo out and say "ditto"!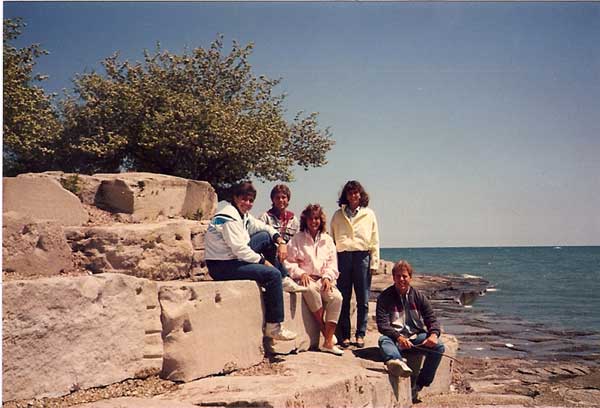 Look forward to seeing you all again soon, Kirby
Friendship and love...they help us get us through our day.
Love and Cure ALS...and Never Give Up, Leslie
Posted by Leslie, July 27, 2010

Curt asked a friend of ours, to ask Curt's buddies if they would write down or email memories that they had of him over the years. Curt told me today that he asked that this be done so that the kids and I will have them. I just want him to be here when they find a cure, and that he be able to tell the stories to our children. That's what I want. That's what he wants. That's what the kids' want. That's what we all want. While we wait for that, impatiently I must add. In the meantime, I have a story that I received today from our good friend, Phil Okun. Now, the names have not been changed to protect the innocent, and you may not know all the characters in this memory, or you just might...but it is so worth reading even if you don't know all of the people. Even I learned things I never knew and yes, Phil made me cry. Curt loves basketball. I remember watching him play when we started dating and he could maneuver the ball in ways that impressed me! And as you know, I'm not a fan of basketball, but watching Curt play, well, that I could definitely watch. Our son, Quinn, played basketball over the winter on his school team that Curt coached and in one game, Quinn did a "Curt move." I got teary eyed. Curt's moves on the court are smooth and dang, he can play...not your normal dribble and shoot. I loved watching him play and I miss that; as Phil misses playing basketball with him.

Court of Dreams (Spring 1989, Michigan State University)
by Phil Okun, July 24, 2010 ...thanks Phil...we love you!

Curt and I lived together most of our time at Michigan State University. First on 5 East Akers; and then later on Hillcrest, where we shared an old sorority house that was divided in two, with 4 other guys and 6 girls. The people we shared the house with changed a bit during the two years we lived there, but the residents included Eric Signs, Rich Kirby, Jeff Damore, Cornelius Faulkner and Rob Freidman. We'll have to ask Cindy Nunn who the women where, because I can't remember anyone other than Cindy and Tori. All I remember about the women was that when Rich Kirby would get hungry, he would sneak over to their side and steal their food.

There are many stories about our time in Akers and the Hillcrest house….

….the music…The Cure, Squeeze, Prince, The Cult, And So Are You, Grove Spoon,….canoe trips, Owen the landlord, long island ice tea parties, the weekend at Curt's parents lake house, the fraternity kid getting beat up by his girlfriend outside our windows, Kirby working at the IM buildings, Curt working at the health club, Eric and Steph, Curt meeting Leslie, Jeffy meeting whoever would talk to him….Crunchy's, Ricks, Dooley's, Kirby as Santa, the snow day, Bob the cat, Church of Love…..Spring Term!!!!!

…but what I remember about Curt from this time was he was one of the few clean roommates and by far the most well balanced; and I remember the Court of Dreams finals.

Curt is a uniquely nice person and would be easy for anyone to be friends with, but I believe that my friendship with Curt flourished not because of what we shared as far as our personalities, but because of our love of the game of basketball. Curt and I played together if not most days, then at least every week. I played center and could block shots and rebound. Curt, because he was so short for his age and lacked athletic ability :) , was forced to play guard. Vertical handicap aside Curt could play ball. When Curt was bringing the ball up the court, it was in very good hands. I knew if I got open, he was going to feed me the ball, but if not, he had a money jump shot and could drive the hole as well as or better than, anyone we played with. I am writing this story more than 20 years after it happened, but even after all those years I remember loving to play basketball with Curt, and I miss it to this day.

In the spring of 1989, which I believe was the end of our junior year; the guys from Virginia Street organized a 3 on 3 basketball tournament during the Detroit Pistons playoff game against the Boston Celtics…….
(in order to give this story context, I need to digress and give you some background on the Virginia Street guys. The thing about the guys on Virginia St. was that they were an extremely trouble group. Looking back, it probably would have been better if we didn't spend time with them at all. They had names like Pee Wee, Tulloch, Strader and J.P.. They hung out with guys that had names like Dogger, Gooff, Ruyle, Gruca and Dave the Wave.

Curt and I considered ourselves to be athletes. We played sports in high school and more importantly tried to take care of ourselves during our time at MSU. The Virginia St. group on the other hand, may have at one time been athletes, but by the time they got to their junior year at MSU, they lost touch with the phrase "my body is a temple". To give this context, back in the 80's at MSU, students could reserve a basketball court at one of the workout facilities that were call Intramural Buildings or IM buildings. One of the IM facilities that wasn't used heavily, was the IM Circle. Occasionally the Virginia guys would reserve a court at the Circle, and Curt and I would get the invite to play. In between games when Curt and I would go to grab water to rehydrate, we would come back to the Virginia guys taking a break of smoking cigarettes somewhere near half court, before the next game.)

……again this tournament took place 20 years ago and my memory is a little blurry, but the way I remember it the guys from Virginia St. did not have a basketball hoop or court before the tournament. They did have a driveway that went into the back of their house and expanded enough to create a small court. On this court someone nailed a plywood board to a tree and bolted a hoop to it. Someone had painted "Court of Dreams" on the ad hoc backboard. The "Court of Dreams" sign was a reference to a popular Kevin Costner movie Field of Dreams, in which a farmer hears a voice that tells him to build a baseball diamond in a corn field, and tells him "If you build it; they will come". The quote turned out to be very appropriate.

This was not the type of court that Curt and I would usually play on, but as it turns out the court was perfect for this particular tournament. The details are very blurry but I remember there being 4 or 5 teams. Curt and I must have thought it made sense to have a "Hillcrest House" team because instead of stacking our team with a player, we played with our roommate Jeff "Jeffy" Damore. Jeffy, to say the least, was not a player.
I think the tournament took place over Memorial Day weekend and back then MSU was still in school for the Spring term. The Virginia St. house had a small deck in back that overlooked the newly built court. When we showed up to play, someone had pulled out a small TV in order to watch the Pistons game. My memory had the TV sitting on a keg of beer, which was the only source of hydration that anyone had that day.

I am sure that Curt and I had discussed the game before hand, but I remember that when the tournament began, we believed that based on the level of competition and the level of skill that Curt and I possessed, we would quickly dominate the brackets and easily win. As it turns out superior skills would not make much difference once the tournament got started.

I don't remember anyone taking the tournament to seriously in the days leading up to the games, but as the first teams started to play that day, it quickly became evident that everyone was taking the tournament seriously. While most of the guys playing had long since given up on serious athletics, they were all tough, young and apparently angry. Normal basketball rules and etiquette had no real place in this tournament. Traveling, carrying the ball, three seconds, and fouls were not in the rules this day. As a matter of fact, I don't remember fouls being called at all.

When the games got started, everyone got serious. I don't know if was our age, the Pistons Celtics series, or something else, but everyone wanted to win. Everyone on every team, no matter what skill level, gave it everything they had. Every game was an intense battle. No point was every easy; your team earned every advantage they got. It felt like life or death.

The tournament went all day, and into the evening. It out lasted the Pistons game and the keg of beer. By the final game everyone was tired and hurting. As expected, Curt, Jeffy and I, were in the final game. The other team in the finals was a bit of a surprise. The team from the Virginia St. house had made it. The Virginia St. team was led by their center Kent Strader. Kent was 6'6, but play like he was 5'10. Kent was joined by John Tulloch and Dave the Wave. Tulloch who had shown promise as a student and an athlete had, by his junior year, made the decision to get on the 8 year college graduation program; which did not allow time for working out. I'm not sure how to describe Dave the Wave. You would not call him an athlete; maybe MSU's version of Hunter S. Thompson, without the guns.

The game went on for a very long time and in the end, we lost to the Virgina St. guys. Actually it wasn't so much we lost; they just got the last point needed before we did.

Either team could have won that game. I remember going home and being very upset and staying that way for a few days. I went to bed right when I got home because I was totally spent; this was very rare for MSU. Anyone who played in that tournament will tell you that they were sorer that following week, then at anytime before or since.

As I look back 20 year to this tournament, the amazing thing to me was not the games, but how we lived back then. This tournament was nothing unusual for us when we were at MSU together; just another day. Every day was an adventure like this.

My time at MSU with Curt, and everyone else in this story was an amazing experience. We were in our late teens and early 20s and we felt like adults even though we were just kids. I think about the years at MSU often, and I miss everyone that I have written about. We shared an indescribable experience together. This was a tough time, a fun time, and sometimes a scary time. We were growing up with all the insecurities and passions, but we did it together. We had fun together. We grew up together. We cared for each other; and as I look back, we loved each other. Curt and all the people from this time will always be a very significant part of me.

Posted by Leslie, July 11, 2010
Thank You ~ Love ~ Hope ~ A Cure
We are so thankful to be surrounded by the kindest friends, family, and community. With your love, The Curt Luttig & Family Links fore Tomorrow Golf Outing & Benefit Event raised $60,000 to help us as Curt battles ALS. It was a beautiful day spent with beautiful and caring people. This event would have never taken place if it weren't for our friends' Eric Signs, David Brockmyre and Ted Suidgeest. A most sincere thank you to them for the weeks they worked putting together an event that not only had a purpose to raise money, but was organized in such a professional and classy way, that a great time was had by everyone who attended. They suggested the benefit to us out of their love and friendship for Curt, and from there, it just grew. Word spread, people wanted to help and we have so many people to thank.
I want you to know that I had grandeur hopes of sending an individual thank you to everyone. I soon realized that I just don't have the time to do so, but I so wish that I did. With that being said, we are making every effort to make sure that everyone gets a thank you somehow, whether it be by this update, in the mail, on Facebook or in the Clinton County News (ad in this weeks paper). If you know someone who attended, we please ask that you forward this to them, (I know, asking for your help) but we don't want to miss anyone. The benefit may have been started by the "A Team", but without the help of everyone, it would have never been as successful as it was. So much labor of love...
We would like to thank Prairie Creek, Maner Costerisan, Jim Dedyne, C2 Group, Progress Chemical, Avery Eye Care Center, Digital Active, Eiseler Oil, Pauli Ford, Rehmann's Clothing, Trinity Engineering & Surveying, Kim Lawrence, Greg Fleet, Robert and Amy McCormick, Kirsten, Jordyn and Ashley Burks, Brian and Cathy Kelley, John Wieber, The Parker Family, Friends of Curt, Brian and Kathy Stacey and Family, Darren Elliott, Sue Krieger, Peter Grimes, Allaby & Brewbaker, Brian Upton and Deena Mansour, Chris and Pam Ervin, Delta Dental, Don's Party Store on Round Lake, Kurt Hufnagel Family, RE/MAX – Tom Benson, Dorothy Signs & Family, Spicer Group, Inc., Bates Family, Mazzolini Family, Becker's Bridal, Biggy Coffee of Holt, Will and Shruti Gross, Blaine and Patti (Smith) Simon, Briggs Family, Mullaney Family, Carl and Tammy Waddington, Coopers Creek & Knots Consulting, Craig and Pamela Luttig-Stoltz, Curt's 10U Baseball Team, DeeDee Nason, Dewitt Morning Hoopsters, Fox Brothers Supply Company, Friends of Brantae and Sadye, Garapetian Family, John Tulloch and Julie Nastold, Khavari Family, Lansing Glass Company, Lee and Karen Putnam, Locale Media Company, M & M Restaurant Supply, Muskegon Radiology, PLC, Nunn Family, Rademacher Family, Maloney Family, Zuver Family, Robert Dedyne Insurance, Ron and Susan Petter for Quinn, Ray and Annie Signs, Smith LawnScapes, Sparrow Clinton Hospital, Steve & Angie Iocco, Weber Plumbing, Wieber Lumber, Aaron Luttig, Beth Herendeen, Beth Straubel, Susan Petter, Patricia Luttig, Ernie Luttig, Carolyn Petter, Laura Petter, Sherri Petter, Samantha Petter, Sabrina Petter, Curt Miller, Andy Brockmyre, Angela Fain, Theresa VanErmen, Kevin Burns, Cathy & Lauren Kelley, Cheryl Maloney, Cheryl Slamka, Cindy Nunn, David and Paige Brockmyre, Jeff Damore, Deanne Purtill, Eric and Stephanie Signs, Ella Signs, Jessica Parker, Kara Roy, Karen Feldpausch, Jackie Huhn, Angie Labar, Bill Bartleson, Kerri and Steve Bendele, Kim Weber, Linda, Kali and Lauren Lucas, Lori Hudgens, Mary Jo Theis, Michelle Fox, Mike Goerge, Patti Pope, Roger Cook, Jordan Stoltz, Shannon Briggs, Sue and Dennis Parker, Ted and Lisa Suidgeest, Tom and Tera Wenzlick, Troy LeBaron, Todd and Tamara Brown, Jim and Debbie Grant, Tori Steingreaber, Tony and Tricia Briningstool, Jeff and Kristin Deppen, Dave Kirkey, McDaniels Kitchen & Bath, Clinton Electronics, Rich and Beth Kirby, Phil Okun, Lawrence and Betsy Fischer, Tom and Maggie Lott, Bob and Tara Keenan, Jenny Messner, Tom and Mary Hutton, Mario Nanos, John Luttig, Ross and Patti Pope, JoAnne Berry and ALS of Michigan, ALL who attended, ALL the individuals who made silent auction donations, ALL the companies who donated items, ALL who purchased items and to ALL who made monetary donations, and to ALL who sent cards. Thank you to those who stayed on your golf carts, those who fell off of them, those who smooched in the photo booth or made silly faces. Thank you for the sweetest conversations and for all of the hugs. Thank you to old friends - and new. It was truly amazing and the support...we are loved. Thank you, to everyone, for helping us as we fight this battle. It's a tough one and Curt is progressively getting weaker. So if your child is in college, ask them to go into research and to find a cure. We need one.
We would also like to thank Kami Woodbury and all of the stylists of Modern Concepts for their upcoming Locks for Luttig which will be taking place on Wednesday. And to Foster's Pub for catering the event. You keep making me cry.
Thank you to my Aunt Carolyn and my cousin, Kara, for the recent photos they sent of the golf outing. I think they took photos of everyone who golfed as they were volunteering on Hole 13 (and other porta-potty shots and beetles...mating!), and I will soon get these over to Eric so he can upload them to the web site. We only have dial-up and if I do it, you won't see the pictures until next year.
Remember, never give up!
Love and Cure ALS,
Curt, Leslie, Quinn, Brantae and Sadye

Posted: 7-7-10, by Curt

It is hard to believe it has been almost 2 weeks since the golf outing. I am sorry if I didn't talk to everyone there. It was quite overwhelming. I tried standing in the corner by the Biggby coffee stand and Kirsten "the Cake Ladies" desserts, because that seemed to be the hot spot after a night in the bidding pit. I also apologize to all the ladies for grabbing your ass when you hugged me, but you have to understand that is as high as I can raise my arms. I am not quite sure why David Brockmyre kept coming up for hugs though. It was great seeing so many friends and family that I haven't seen in awhile, and even better watching everyone have so much fun. I wish we could go back and do it all over again.

I love you all, and Cure ALS,
Curt


Posted: 6-26-10, by Leslie
As I sit here writing this, it's just past in the morning and the rest of the family is sound asleep.
Yesterday was a perfect day. We were surrounded by the most generous kind of love and friendship. I honestly don't know how to thank all of you. It is really overwhelming to see how much people care, I mean, we knew people cared, but the benefit just took our breath away. Many of you said to me that you couldn't believe how many people were in attendance...and I think I just looked at you with no response, because I kept thinking the same thing. It was an ocean of support and so much more than we ever could have imagined and we thank you. And our friends who suggested the benefit and rolled with it...we love you!
I looked through the guest book last night and was replaying the day in my head. As I went to bed, I realized that there were many of you that I never got the chance to talk to and I apologize. I so wanted to be able to talk to everyone and at least give you a hug. If you see me or I see you, please approach me so I can say thank you. I really need to do this. There were many of you who I had never met and I had some of the nicest conversations with. And everywhere I turned, I met a new person who Curt played morning basketball with in Dewitt. Wow...there were a lot of you and what a great group of men you are. I realize now that he didn't only go there for the basketball, but because he became friends with such a wonderful group of guys.
During the event, we had Curt's friends read a letter to all of you. You may be wondering why I didn't read the letter, but I am a very shy person and if I had to speak in front of a crowd, I would have passed out. I can do well one on one, but speaking to a group, makes me very uncomfortable, even if it is a small group. Thank you, Eric and Kirby, for doing this for us.
This morning I looked through the pictures that were taken in the photo booth. From what I could see, that was a great hit! Quite funny pics! I had to keep my laughter quiet so that I didn't wake anyone. Thanks Ray and Annie for setting up this great part of the benefit.
Thank you again for all of your support. So many people helped put this together and helped throughout the day. I can't tell you how much the funds raised will help our family. And not only with medical expenses, but it should allow me to be able to stay home for awhile and care for Curt, before having to go back to work. Being together, is just what we need and because of you, we are able to do that.
My deepest love to you all!
Love and Cure ALS,
Leslie
Posted: 6-24-10, by Leslie

Hello,
Wow, tomorrow is the day of the Golf Outing and Dinner Benefit. I wish all of you knew how many hours our friends' Eric, Ted and David have put into this. Numerous, numerous hours...days...weeks. And they did all of this in a rather short time frame, with the assistance of Stephanie, Cindy and Aaron. They got the ball rolling and all of you were there to help...no questions asked. Well, except for "what can I do?" So many donations, sponsors and volunteers. I know that Curt never realized, how much he is loved and adored and we wholeheartedly thank you.

I realized just yesterday that it has been 6 months since Curt's diagnosis, and it has taken that long for me to be able to talk to someone about his illness without breaking down. I still fall apart, but not as often, and I wonder if it's because my days are filled with so many things to do, that I don't have time to cry. I know it's not acceptance...I'm not accepting this disease. It wasn't invited. Just...coping, and fighting the best that I can fight.

I need to give another thank you to Curt's brother, Ernie. He is my relief caregiver, and he rearranged his life to help us. In my pure exhaustion, he's been there. Thank you!

We are looking forward to seeing everyone tomorrow and I know Curt has friends coming who he hasn't seen since college. People have asked how I think he will do and if he will stay at the entire event. Well, I'm not sure. We will just take the time as it comes, as we have been with each day. He has medical equipment he needs to bring, has to do tube feedings and we will work with that the best we can. I know he will want to talk to people and if you be patient, he will type and talk with you on his phone. But, you need to be patient because typing on a phone takes much longer than it does if one were speaking. When talking with him...just pause. :)

Looking forward to a beautiful day tomorrow, being spent with beautiful friends!

Love and Cure ALS,
Leslie




Posted: 6-20-10, by Curt

Power is on. Hallelujah. There is no place like home. Thanks to our families help, nothing spoiled in the fridge, and we all slept in AC. We would like to thank everyone for visiting the web site, and all the people behind the scenes who have made it all possible. If you notice any typos on the site, don't blame Eric, most of the emails I receive from him are from the wee hours of the morning. He is truly burning the candle from both ends. Quinn and Brantae's baseball seasons are both wrapping up this next week. While it will be nice to not have to run around to games, we sure will miss it. I guess July is when our summer really starts.

Brantae is excited to celebrate her Birthday at the cottage this year. We just have to figure out how to fit 9 candles on an ice cream cone. She has a slight addiction that she inherited from my dad. The only difference is he eats it with a knife and she eats it on a cone (both in large quantities).

The kids really enjoy trying to help dad with his new way of life. Kids seem to adjust to almost anything, I guess that is a good thing. It's a little harder for me. I still have a hard time remembering that I can't go outside and shoot hoops or pitch to the kids. I had finally broke down and bought a new set of golf clubs last summer behind my wife's back, but I didn't even get a chance to get them too dirty. I saw Quinn eyeing them the other day, so they will get some use. My electrician, Pat Lenon from Lenon Electric is going to come out and hook us up with a house generator in the next few weeks. That will make life a lot simpler in the coming stormy summer and upcoming winter.

Hope all is going well in your life, and we appreciate all your kind words and support.

Curt





Posted: 6-19-10, by Curt

Country livin, gotta love it. We got home last night after a ball game at 9:00 and our power promptly went out, on, out, on, and than out for good. My poor wife had to load up our circus tent of accessories and gadgets that are required to keep me up and about, and we headed into town. A night at the inlaws, just what my wife had planned for a peaceful weekend. Actually, they get along great, and the kids thought it was like going on vacation. Hopefully power will be up soon and we'll head back out.