Updates Page 5

Posted: 7-5-11, from Curt
It's been over two weeks since the outing, and I still think about it everyday. Seeing so many people from long ago and from my previous daily life was great. When you are wheelchair bound and housebound for the most part, there is a huge disconnect from everyday life. The freedom of driving, running errands, even working is something we all take for granted. I remember enjoying weekends with nothing going on, just so I could stay home and do nothing every once in a while. Boy was I wrong. Unfortunately I have grounded my family as well. No more taking Friday off work and loading the kids up and heading to cottage for 4 days. No more picking the kids up after school, grabbing some za and eating on grandma and grandpas back porch. No more ditching the kids and going out to dinner and a movie with Les. It weighs hard on me seeing how hard my illness has made it on everyone close to me. My wife and kids missing out on so many things. The looks I can see in peoples eyes when they see how hard my daily life has become. the kindness of so many in our daily lives makes the difference. From Buddy and Liz Howes taking our kids on excursions swimming, movies, video arcades etc with their daughter Taylor, to the Slamkas and Karbers making sure Quinn and Sadye never missed a practice or game. We can never thank people enough for these things, and have come to accept the fact that they don't expect a thanks. I take great comfort in knowing my families future will still have all these people involved in it. A little bit of me will always be carried on inside my kids and someday people will recognize that smart ass sense of humor, smile, or left hand reverse layup and remember me. Hopefully they will do so with a smile on their face and not a sadness in their heart. I do not want to be remembered for having died from ALS, but rather from having lived despite it. I lived 42 years not realizing how truly lucky I was. It only took a year and a half of living with ALS to truly understand how lucky I really was.
Submitted by Leslie, July 5, 2011
A Thank You Update…
A friend's grandmother said, "Friends are the family we pick for ourselves." We are fortunate to have an extremely caring and loving group of friends' surrounding us and we cannot thank Eric and Stephanie Signs, Ted Suidgeest, Cindy Nunn, and David Brockmyre enough for spearheading this event the past two years to help support our struggle against ALS. The hours devoted to make the Curt Luttig & Family Links for Tomorrow Benefit successful is beyond comprehension. We love them more than they can possibly know.
We had a wonderful day spent with such caring people. When we got home, Curt asked me who I enjoyed visiting with the most. I told him a few names and I asked him who he enjoyed visiting with. His reply, "EVERY ONE!" Last year Curt was unable to talk and didn't have his Eyegaze computer, but was able to walk. This year, unable to walk, but he had his Eyegaze to communicate. Communication…it's a remarkable thing, isn't it? Thank you to everyone who spent some time conversing with him. You made his day more special than you can possibly imagine, and when he says that he wishes he could do it all over again and see and talk to all of you, it is so true. Please if you have a moment, take the time to email him at curteluttig@gmail.com. Just tell him about your day! His days are so different from yours, and hearing about what is going on with you or your family, would mean so much.
We have so many people to thank and we apologize ahead of time if we have forgotten anyone. First, thank you to Jason Colthorp for being the emcee this year. You filled the day with true humor! A huge thank you to Loren and Laura Petter, (brother and sister-in-law), for coming up with the idea to make t-shirts with the kids artwork to promote awareness and help raise funds. We love you for doing all of the work you put into it! Thank you to our one of a kind UPS driver, Lee Greer, for thinking of me. You really touched my heart.
A sincere thank you to our generous sponsors: Koenigsknecht Dentistry, Maner Costerisan, C2 Group, Digital Active, Hosford Brothers Concrete, Inc., Progress Chemical, Eiseler Oil, Pauli Ford, Trinity Engineering & Surveying, Kim Lawrence, Greg Fleet, Wieber Lumber, The Kelley Family, Tom & Leslie Jordan, Hosford Brothers Concrete, Inc., Pepper Concrete, Parker Family, Sue Krieger, Sunday Night Basketball Group, The Church of Love, Shruti and Will Gross/Biggby Coffee, Kirsten Burks/The Kake Lady, Bill Bartilson, Dandee Printing, Skyline Outdoor Advertising, Briggs Family, Mullaney Family, Dewitt Morning Hoopsters, Don & Julie Kebler, Eric, Wendy, Kathryn & Megan Cook, Gratiot Agricultural Professional Services, In Memory of Matt Hutton, Garapetian Family, Khavari Family, In Memory of Robert Labrie, John E. Wieber, P.C., K-13 Physical Therapy, Kurncz Dairy Farm, Lansing Glass Company, Lee and Karen Putnam, Locale Media, Mike and Janet Sinke, Mike Goerge, Muskegon Radiology, San Juan Family, Schroeder, Steingreaber & Woodbury Families, Smith Lawnscapes, Steve and Angie Iocco, Ken and Mary Jo Theis Family, Waverly High School Teachers, Weber Plumbing, Allaby & Brewbaker, Bee's Sports, Bob's Glass Shack, Brian Upton, Deena Mansour & Family, Chris & Pam Ervin Family, Christ United Dewitt, Don's Party Store on Round Lake, Dr. John Faust & Dr. Ed Grubaugh, Jim McKenzie Agency Inc., LeVeck's Power Equipment, Rod Reed, and Schneider Fabrications Inc.
We are extremely grateful to the numerous volunteers with special thanks to Kerri Bendele and Roger & Liz Cook. Our volunteers went above and beyond, helping with the event. Thank you, Ross Pope, Tori Steingreaber, and Steve Weber for the photo boob! Thank you Denise Bates, Shannon Briggs, Trent Brya, Nikki Bouck (aka Ted), Todd and Tami Brown, John Creed, Brenda DeLiso, Darren Dyer, Karen Feldpausch (aka Ted), Troy Foote, Michelle Fox, Beth Herendeen, Tammy Hosford, Erika and Ryan Karber, Rich Kirby, Cathy Kelly, Kali Lucas, Lauren Lucas, Cheryl Maloney, Dennis and Sue Parker, Carolyn Petter, Laura Petter, Sherri Petter, Susan Petter, Deanne Purtill, Kara Roy, Patti Simon, Amy Smith, Beth and Robb Straubel, Jamie Suidgeest, Lauren Suidgeest, Maryjo Theis, Kim Weber and Tera Wenzlick. Thank you isn't enough – it really isn't.
There were so many people who contributed with items for the silent auction and for those of you at the event, you were able to experience the support we received from our community and friends from afar. Thank you, each and every one of you who made a donation, bid on items or made a monetary donation in our name.
With enormous love we are thankful to everyone who attended the event in person or in spirit. Without all of you, collectively, this wouldn't have been an event of this magnitude. It's a humbling experience to be in this position, and we are blessed for the wonderful people surrounding us and supporting us with their strength, kind words and compassion.
WE NEED A CURE…
Love and Cure ALS and Never Give Up,
Curt, Leslie, Quinn, Brantae and Sadye

Posted: 6-27-11, from Curt
It was quite an amazing day and night at Prairie Creek on Friday. As you could see I was in a little different condition than last year. I wasn't sure how I would feel seeing everyone while sitting in my chair. Vanity is a natural part of being human. My whole life I have always been in decent shape and felt comfortable in my own skin. Not so much anymore. I really hate seeing myself in pictures and videos. Weird feeling different emotions and having no expression on your face. Oh well, what the hell. Everyone made me feel very comfortable being there. I'm sure some didn't feel comfortable approaching me, and I understand. But those that did were very understanding and patient with my new, slow method of speech. Believe me, it's hard being a smartass with an eyegaze computer. My friends that hang out with me often, are developing better long term memory, because when I throw in a zinger, they have to think back in the conversation as to where to place it. I guess I'm slow witted now. I really enjoyed seeing many people I haven't seen in quite a while. It was great seeing everyone enjoy the night. Someday I foresee this as not being an event to raise money, but a yearly gathering of friends tipping their glass and telling tall tales. I hope everyone went home with something from the auction room. There was quite an array of items. So many people worked so hard, it is really something. I will never be in a position to repay what I am indebted to so many. I wasn't able to go out on the golf course, but from what I've heard everyone had fun. Apparently a new tradition has been started as Team Ross handed Team Trent the Championship Belt for golf. Brian Stacey was ecstatic as he loaded up all the kids carseats in back of the car with the bottles of booze he won for the safe ride home. Marilyn Armbrustmacher loves corn so much that she held a corn eating clinic at one of the dinner tables. For some reason she kept calling me a "little shit". Considering that I was unsure how I would feel at this event, I went away from it wishing I could do it all over again. Thank you for coming and showing us your support. I'm sorry I didn't get to talk to everyone, I wish I could've, and some that I did talk to, I wish it could've been more. Feel free to email me if you have any stories to share. I have had quite a few back and forths with friends remembering the old days. Pretty soon there will be some pictures and videos up as well. Thanks again!
Never Give Up and Cure ALS!




Posted: 6-14-11, from Curt
The availability of oodles of information on the internet is both good and bad. Yes, there are great sources of information and countless numbers of websites, but maybe some of the information is something we just don't need to know.

In my current condition I have looked at some ALS sites, blogs etc. Many people get comfort talking and knowing others with the same illness as them. For me, reading these just seems to bring me down. One gentleman wrote how he had befriended many fellow pALS (persons with ALS) and nearly one was dying every month. Another wrote about how he was holding rallies, giving lectures, and trying to raise awareness to find a cure. He has had ALS for 5 years and could still type and sit up.

My form of ALS works much quicker. I guess it's extra strength ALS. I just don't have the energy or strength to put into that. I'm sure it's selfish of me to feel that way, but I would rather spend my time with friends and family. Books, movies, and sports are a great distractions, believe me you need something else to think about, but the reality is always lurking below the surface. I'll be honest, I wasn't sure that I would be around for the 2nd golf outing. With a projected 1 to 3 year survival rate, there isn't much to be optomistic about. I use sarcasm and humor as my defense. Partially for my good but also for those around me. I don't want to be remembered lying in a bed miserable. I want to be remembered fondly, with a smile on your face. It's the only thing I can rely on. I will rely on all of you to do 2 things. Keep awareness of ALS on the upswing. A once a year donation to an organization trying to find a cure. Do an ALS walk. Send your kids to medical school. A thousand small things add up. St. Joe school and parents did this with bracelets and shoelaces supporting ALS awareness. The second thing is don't forget who I was when I'm gone. My kids need to hear stories about me, good and bad, that I won't be here to tell them. I will live on in the memories of others. I wasn't dealt a fair hand, neither was my family, but I'm not folding. The fun is in the playing, not the end result.

Posted: 6-13-11, from Curt


A huge thanks needs to go out to Eric and Stephanie Signs, Ted Suidgeest, Cindy Nunn, David Brockmyre, and their families for all their tireless efforts in putting together the upcoming golf outing dinner event. We would also like to thank the numerous people who have gone out in the community and collected various donations for the auction. (Roger & Liz Cook, Kerri Bendele, Beth Herendeen, Todd and Aimiee Ross to name a few) And we can't forget to thank all the sponsors as well. There are so many others who need to be given thanks that are volunteering their time and efforts for the outing. I cannot put into words how humbling it is to have so many people come together in an a collective effort to help us both monetarily and emotionally. There is no way that we will be able to ever completely express our thanks.
If you have been checking out the silent auction page, there is a vast array of items to bid on. Last year the bidding room was an extremely busy area. There was a lot of friendly competition going on for several of the items. Hopefully the weather cooperates and everybody has a great time. The money collected during these events is instrumental in keeping our family afloat. Leslie has been able to stay home and take care of me. Without this help, I would more than likely be sitting around in an assisted care facility. While the money is important it is also incredibly uplifting to see everyone getting together and having a great time. I know the reason for getting together sucks, but sometimes you take what you get.
ALS has robbed me of almost everything, but it hasn't touched my spirit and will to live. If it weren't for my amazing family and friends my outlook might be different. Weekly visits and emails keep me connected to the world and a view outside of my bubble. Everything I do takes a tremendous amount of effort, mostly by those around me. We just take it day by day. I will see you on Friday at the golf outing. I will be the one in the wheelchair hooked up to all the fancy gizmos.



Posted: 6-6-11, from Curt


Baseball season is in full swing and school is just a few days from being done. Both Quinn and Brantae are playing baseball. Sadye decided she didn't want to play baseball with boys so she is concentrating on trying to sample every different type of candy from the concession stand. There have only been 4 games and I think she is halfway through it. Parents and Grandparents BEWARE, if you see a band of cute, innocent looking girls wandering around the ballfields, hold on to your wallets. They collect 9 cents here, a quarter there, and pretty soon they have a three course meal of sugar coated goodies. Hey, you only live once, good for them... and the local dentists. I had been known to stop at Speedways for a round of slurpees and my daily allotment of Mt. Dew and candy bars / chips, so who am I to judge. Maybe it's a genetic sugar gene. I guess its better than a tabacco or liquor gene. I imagine there are cashiers at Speedways in the East Lansing area wondering what happened to that one guy who stopped in every morning for a pop. Hopefully they imagine I won the lotto and moved to some exotic locale or started eating healthy and was doing iron man competitions. Ok, maybe thats a stretch.


This was always my favorite time of year. The rain finally subsides and the days start getting longer. I had a remodelling business and worked outside everyday. Over the years I worked for some amazing people. If any of you are reading this, I thank you for letting us tear apart and rebuild your homes. For most of the time I was in business I was fortunate enough to have Tom Lott working alongside me. He often reminded me that he had forgotten more about remodelling than I knew. Or was that something I said? He had more sayings than anyone I've ever known. At any point in the day, if a certain situation called for it, Tom would have an appropriate response. One that sticks out is, ''Curt, I'm no mathematician, but you can count on me." I believe he borrowed that from the J. Giles Band. And true to his word I always could count on him. Over the years I had stopped advertising and worked soley on repeat business and referalls. I think Tom was a big reason for that. People felt comfortable letting us into their homes and trusted us. It was not uncommon for our customers children to be asking when Tom was coming back after our job was completed. I can't recall the exact phrasing, but one child, whose name we will refer to as Beaner to protect the innocent, said to her parents, ''Tom's in charge of doing the work, and Curts in charge of making jokes, right?" I guess my smart ass nature was more transparent than I thought. A 5 year old had me figured out.


I really miss feeling the sun on my back, working with my hands, the taste of a good cold drink after working in the sun, diving into the lake, playing kickball with the kids, pitching to the boys at practice, golfing, playing basketball with the guys, giving a hug, driving in the truck with windows down and the music up, my voice, laughing, yawning, a good sneeze, walking anywhere, riding bikes with the kids. Those days are long gone and still live with me in my thoughts and dreams. I still walk and talk in every dream I have, sometimes I can even dunk. But if you can't have what you want, want what you have. Now there is a new list. Priorities change. You have to roll with the punches. A good friend recently reminded me, when life hands you lemons, make lemonade. Things I'm lucky to have and enjoy now; 3 great kids who make me smile on the inside, an amazing wife who who has taken it upon herself to make my life as good as it possibly can be, getting my hair washed, having my arms and legs stretched, listening to my wife laugh on the phone while talking with friends, friends coming by to visit, being able to talk, email, and surf using my eyegaze, memories of 42 years of living a great life with no health concerns, being regular (if u know what I mean), music, watching my kids play sports, did I mention my wife? , a community of family and friends who continue to help and support us in so many ways. I'll be honest, I thought it would b easier to come up with more things on the second list, but that's the reality of it. Being trapped inside your own body makes you entirely dependent on others. You learn to take enjoyment in the little things.




Posted: 5-29-11, from Curt

Happy Birthday to me. I would like to thank everyone for the cards and emails extending me good birthday wishes. They were too numerous to reply to individually, so I thought this would be a great way to thank everyone. It seems like every get together is centered around food. Birthdays are no different. Luckily, I was never a cake fan, so I didn't miss my birthday cake. I usually had cheesecake or dutch apple pie. I have somehow resigned myself to never eating or drinking. It helps that I can't smell anything; my breaths only come through my trache now. I would think smelling food would probably make it harder, I could be wrong. Luckily, I was never one to watch what I eat. Never had to diet and chose to eat too healthy. My biggest regret was some dorky doctor telling me my symptoms were due to a severe food allergy to nearly every type of food. For two months I didn't consume anything with corn syrup (which is in everything), wheat, soy, milk, shrimp, nuts, etc. This pretty much wiped out Thanksgiving, but thank goodness I cheated a little. By the time I was diagnosed, I only had a few weeks of eating before it became too difficult to swallow and too dangerous. If I had only known how quickly I would lose the ability to eat, I am confident I could've doubled my weight. That would have been interesting. No one knows why it happened to me when it did and I'm glad it didn't happen earlier - wish it could've happened later. Perhaps it was my 10,000th Mt. Dew or my 5000th candy bar. But hopefully they figure it out soon and find a cure. The future generations of many families are counting on it.

Having death staring you in the face tends to make you reflect on the past. I have plenty of regrets, but growing up in St. Johns was everything I could've hoped for. Great family and friends mixed in with some innocent tom-foolery made for the perfect youth. There are memories from grade school through college that I will never forget. My dad is in his 80's and I still hear new stories from him, mixed in with some that I've heard hundreds of times of course. This is unfortunately something I will not have the luxury of doing. For those of you who know me, if you have any memories of interactions with me that you would like to share, please email them into the website. I would like to put them together for my wife and kids to look through in the future. I'm pretty sure you've wittnessed me doing some pretty stupid things. Of course, I will have the ability to edit them, so be nice.
Thank you again for the birthday wishes.
Never Give Up and Cure ALS,
Curt

Oh... and there is a new video below.




Posted: 5-22-11, from Curt

ALS continues its relentless attack. In the past week my right foot has decided to stop working. My left foot can still move, but I'm sure its not far behind. We just keep adjusting. I have been using my feet to indicate yes or no. Not sure what I'll do next. If you think mosquitos are bad, you should try being around them when you can't swat them. Good thing our kids are so good at shutting the doors behind them when they go outside... Not.

Since being diagnosed with ALS I seem to see TV shows, news articles etc. more often that speak of this terrible disease. They were probably always there; I just didn't notice them. There was one individual with ALS who decided to go to Germany and have assisted suicide. He was 60 years old, could still eat, breathed on his own, could use his arms but needed a wheelchair. Makes me wonder if I am being selfish trying to stay alive. Is there more dignity in giving up or by keeping fighting? I don't know. Giving up never seemed to be an option to me. The insurance companies are pretty screwed up dealing with ALS. They won't pay for anybody to assist in your care at home, but if you get get sick they will pay huge sums of money to treat you in the hospital. Everyone points to Hospice, but they won't help because I have a vent and feeding tube, thus prolonging my life. If I decide to give up they will help with that. No thanks. Good for some, not for me. So we just keep plugging along. Sorry this isn't as smartasstic as usual. Sometimes I just have to get out the serious stuff.

Well, golf filled up pretty fast, I'm sure the dinner will follow. Eric, Steph, Cindy, Ted, and David sure do put on a helluva party. There are also endless volunteers scouring the area for donations. We can't thank EVERYONE enough for your involvement. The auction last year seemed to be a pretty festive crowd. A little extra drinking led to some bidding wars. Luckily this year we won't have to listen to David on the microphone. I belive last year he threatened to sick Mrs. Koenigsknecht on some unruly participants. The infamous Jason Colthorp has volunteered to take over this year. Don't believe anything he tells you about dominating me on the basketball court, he tends to exaggerate. Hopefully I can manage to stay for the whole evening. It gets a little exhausting being me nowadays. We look forward to seeing you all for a day and night of fun. Ross Pope has been bragging in certain circles about how his team won the scramble last year. Dave Brockmyre offered to buy a round of shots for whoever can dethrone them. Let the competition begin.
Never Give Up and Cure ALS,
Curt
Hey, this is Leslie. I just want to say that I am so proud of Curt for fighting as he is. He never complains (well, maybe only a wee bit but that's about my bad shaving skills.) I am relieved that he's not giving up, because even though he can't move and is dependent on me and machines, he is still here, and we need him. Many of his decisions we face together, but ultimately, he has his own choices. Thank goodness we're on the same page here! This disease forces you to think about things you never thought you'd have to think about. But we deal with it...one day at a time.
Love and Cure ALS, Leslie

Posted: 5-12-11, from Curt

We always intended to have our driveway finished with cement. Since there is no time like the present, we finally had it done. Mike and Heath Moyer, of Goose Creek Foundations, did an awesome job. Dorothy Signs insisted the kids' each have a basketball and a new in-ground hoop. Ross Pope and 3 helpers came out one evening and installed hoop.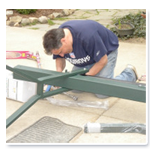 Ross did all the work and the helpers played kick the can. The kids are extremely grateful, and have been using it everyday. Life in the country is sometimes challenging for kids. Plenty to do, but not always someone to do it with. I'm sure it's a little harder not having me out there with them. That was my role in the family dynamic. Pitcher, passer, hike leader, catcher, etc. I'm not sure who misses it more, me or them. It's not supposed to be this way. Quite a mixture of emotions when your kids help get you into bed and wheelchair. It's not really fair for them, but it is greatly appreciated and needed. I have always tried to be a fairly positive easy going person, but I'll be honest, it's getting harder to still be that person. Each day is filled with new challenges and obstacles. Just when you get used to a certain routine, another body part fails, and you have to adjust everything. Friends and family keep me distracted enough to focus on the good and keep the rest in the rearview mirror. Getting emails lends a sense of normalcy to my life. Think of how many interactions you have in day. Phone calls, work, at stores, or school. I have lost all of that. With my computer I am able to talk, but we aren't always able to take it with us. Life is full of challenges - just have to keep moving forward. Summers almost here and I hope to be out at some ball games - feel free to stop and say hi. It sounds like the golf outing is filling up pretty quickly. I look forward to seeing you all there. A lot of people have commented that the amount of people we have supporting our family is an indication of the type of person I was, am. I would have to disagree. There is nothing special about me. I was just lucky enough to meet and know an amazing group of people. And for that, above all the hardships, I am truly lucky.
.
Never Give Up, Cure ALS,
Curt